Our projects are structured as either 'Initiate' or 'Scale'
Initiate projects are 4-6 weeks in duration and are designed around one of Sales, Service, Marketing, Communities or Custom Applications to be built in Salesforce. We design and implement businesses processes taking into account, not just what the organization looks like today, but the organization you aspire to grow into.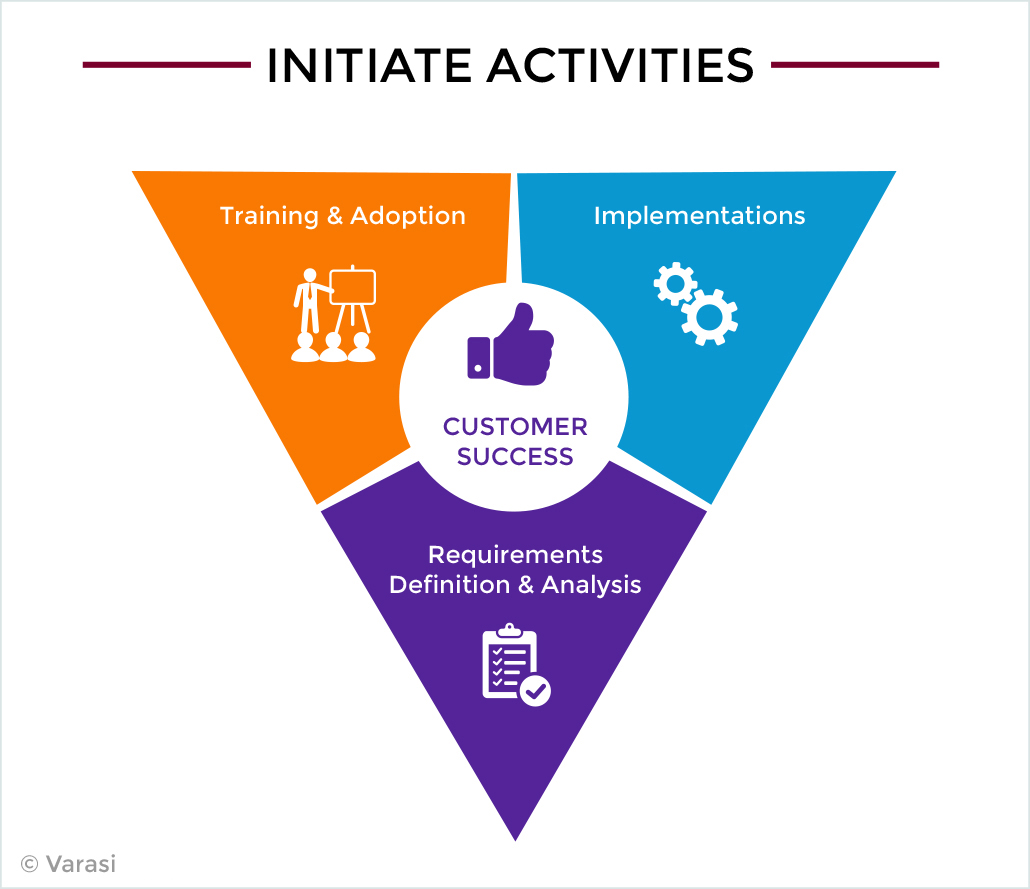 Our Scale offer is relevant to customers who are growing their investments in Salesforce and are looking to build out more than one process area or business function in Salesforce. For such projects, we embrace the agile software development mindset. We organize the project typically into short sprints (of 3-4 weeks each) with each sprint including a significant business function or process.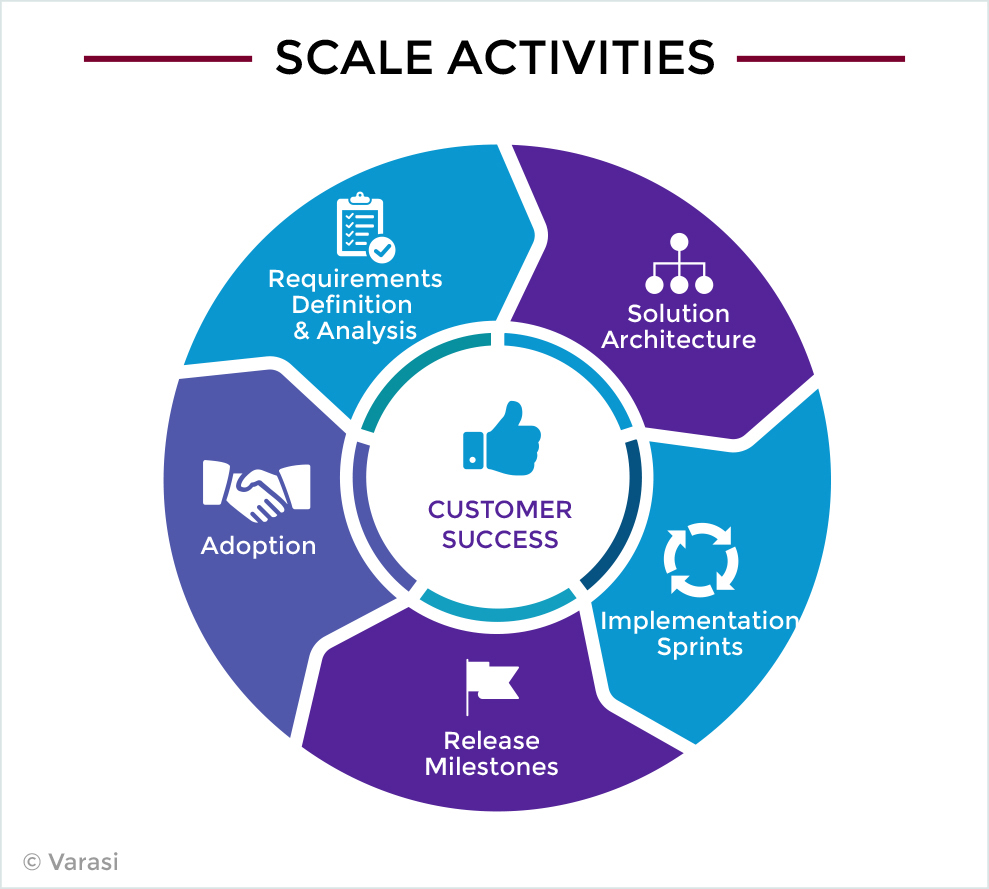 This offer is targeted to Salesforce customers that have implemented Salesforce and are yet to realize the benefits they are seeking from their investment. Our experts audit and assess your current setup, and through a methodical approach surfacing issues and gaps, arrive at a set of recommendations and a guide to the transition.
The recommendations we prepare fall into one of the following categories - Organizational & Business Model Change, Changes to Business Process or Current Systems, Procurement of additional Salesforce Components
Check out our video on our Salesforce Audit engagements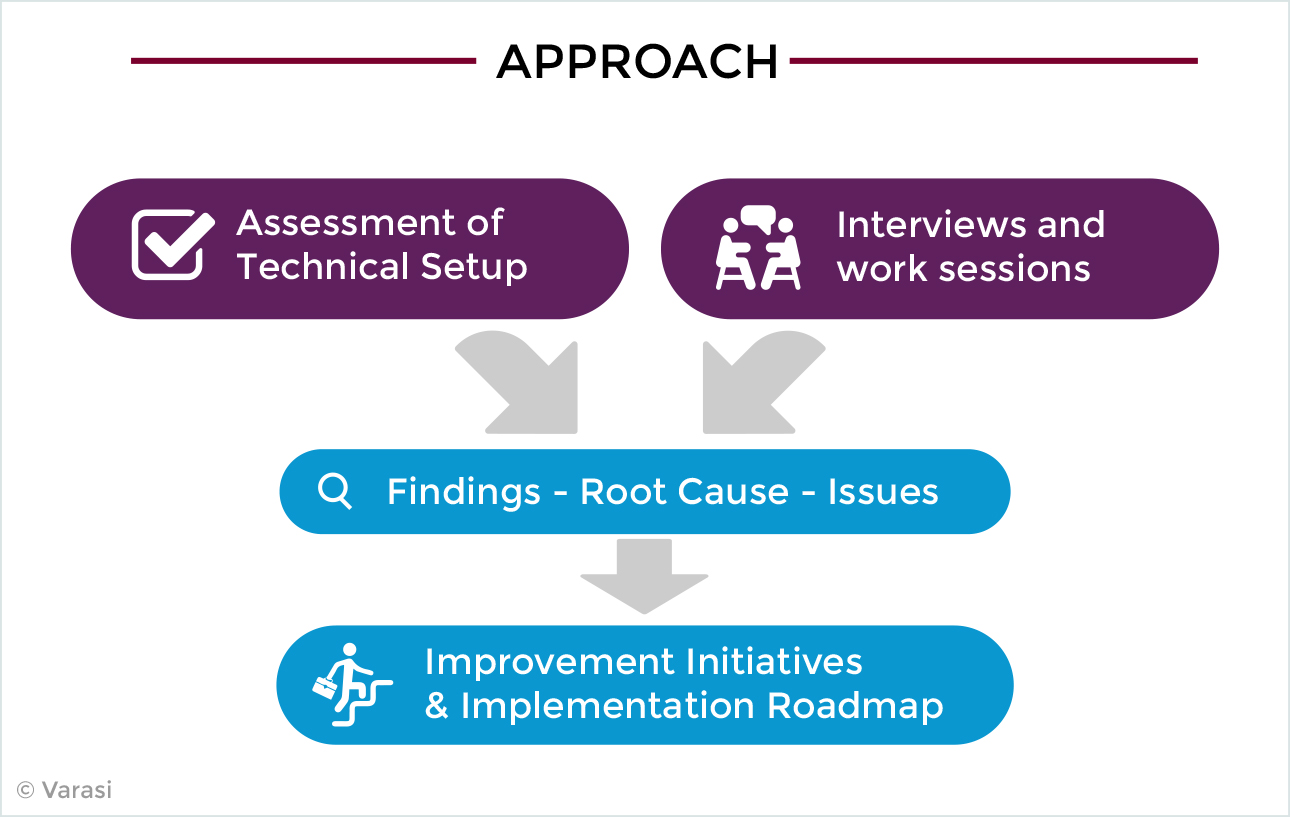 The specific areas vary by the client and salesforce setup; the following are some of the areas we typically cover:
Salesforce Instance Overview (Licenses, Sandboxes)
Security Model
Reports & Dashboards Usage
Product specific (Sales Cloud/Service Cloud etc) implementation
Configuration vs Customization Design
Integration Approach
Training Plan
Management of Salesforce Org and Sandboxes
Value for you:
Objective report on current state of your Salesforce Setup
Assessment of where you are, recommendations on enhancements and priorities
Understanding of Salesforce features that are not being utilized or under-utilized
Key Deliverables:
Reports from diagnostic and analysis tools including Salesforce Health Check, Optimizer, Lightning Migration Assistant, Schema Builder, Configuration Workbook
Report on missing functionality, unused and under-utilized features
User pain points and unmet needs, Prioritized recommendations, A roadmap of changes with priorities
The recommendations we come up with, fall into two categories – some that can be taken up right away and implemented with minimal impact to other areas of the system; and some that will require design and implementation along with system testing. We budget time into our Audit engagements to implement some (upto 10) of the quick fixes for you and also prepare a proposal for implementing the identified enhancements.
For each project that we kick off, we facilitate an intense one or two day workshop in person at our client offices, going over the current state and envisioning together with the stakeholders, the end state. Our workshops typically also involve educating the client teams on the capabilities of the relevant offerings from Salesforce and jointly preparing the high level requirements.
Depending on the scope of the project, the topics and focus of our workshops may span one or more of the following topics:
Sales Strategy and Process Improvement
Service Strategy and Process Improvement
Metrics and Einstein Analytics
Communities for Customer Self Service & Partner Collaboration
Marketing Strategy and Process Improvement
Configure-Pricing-Quote (CPQ) needs
Improving Salesforce Adoption
Migrating to Lightning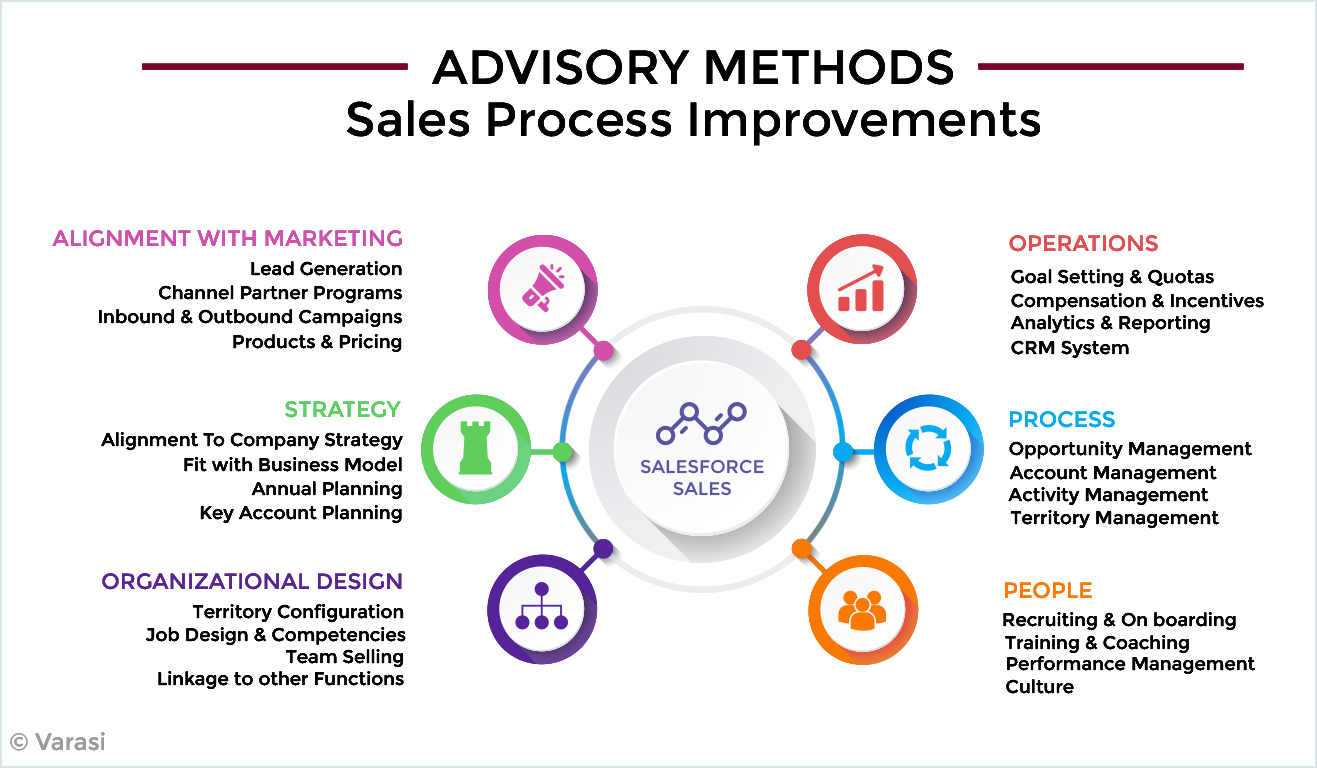 Example Solution Workshop Discussion
What are the information flows and handoffs between Sales & Marketing processes within your organization and with your partners? How do you handle processes at the intersection like managing leads, events and other campaigns, pricing and quotes?
What is the scope of Sales Operations? What does it mean to have a global view of forecasts and pipeline going to look like for you? What does it mean to tailor sales processes for your specific sales situations and your portfolio of products and services?
Do you have ideal customer profiles? Do you have profiles drawn up by segment? What would a 360 degree view of customer mean for you?
What does it mean for a sales team member to be proactive and productive given your customer interactions?
How does your growth plan translate to how your client facing teams are configured?
Alignment among key stakeholders on issues
Agreement on solution approach
Examine ideas from multiple view points
Discover new opportunities
Key Deliverables:
At the end of the workshop, there is a clarification of project scope, success factors, potential barriers and timelines for solution. The typical deliverables from the Solution Workshop include:
Recommended initiatives prioritized by impact and readiness
Orientation to relevant Salesforce product capabilities
High level requirements & solution approach
Success metrics for implementation and best practices
Quick Wins
Quick Wins projects are designed for organizations that are underway with their Salesforce Sales, Service, Marketing, Pardot or Community cloud or custom application implementations, and have a backlog of fixes and enhancements to their Salesforce system configurations. Over the period of one week, we address a subset of such fixes and enhancements on and orient your team through the solutions we design and develop.
Leading upto each of our project implementations, we schedule discovery calls to understand your needs and prepare detailed proposals. Our proposals typically capture:
Project Background
Understanding of Project Scope
High Level Requirements
Project Assumptions & Expectations
Project Roles (Client and Varasi roles)
Varasi Fees