Salesforce for Growth Business
Growth businesses have unique challenges as they transition from their current state to one of growth or preparing for growth. We execute on projects customized to wherever you are, on your own growth journey and your journey with Salesforce.
From working over the years with Salesforce customers across all sizes and industries, our belief is companies that rush to configure existing processes miss out on fully exploiting the power of the Salesforce platform. We believe in designing processes in Salesforce that lend themselves best to your growth aspirations. This is how you ensure adoption and realize investment.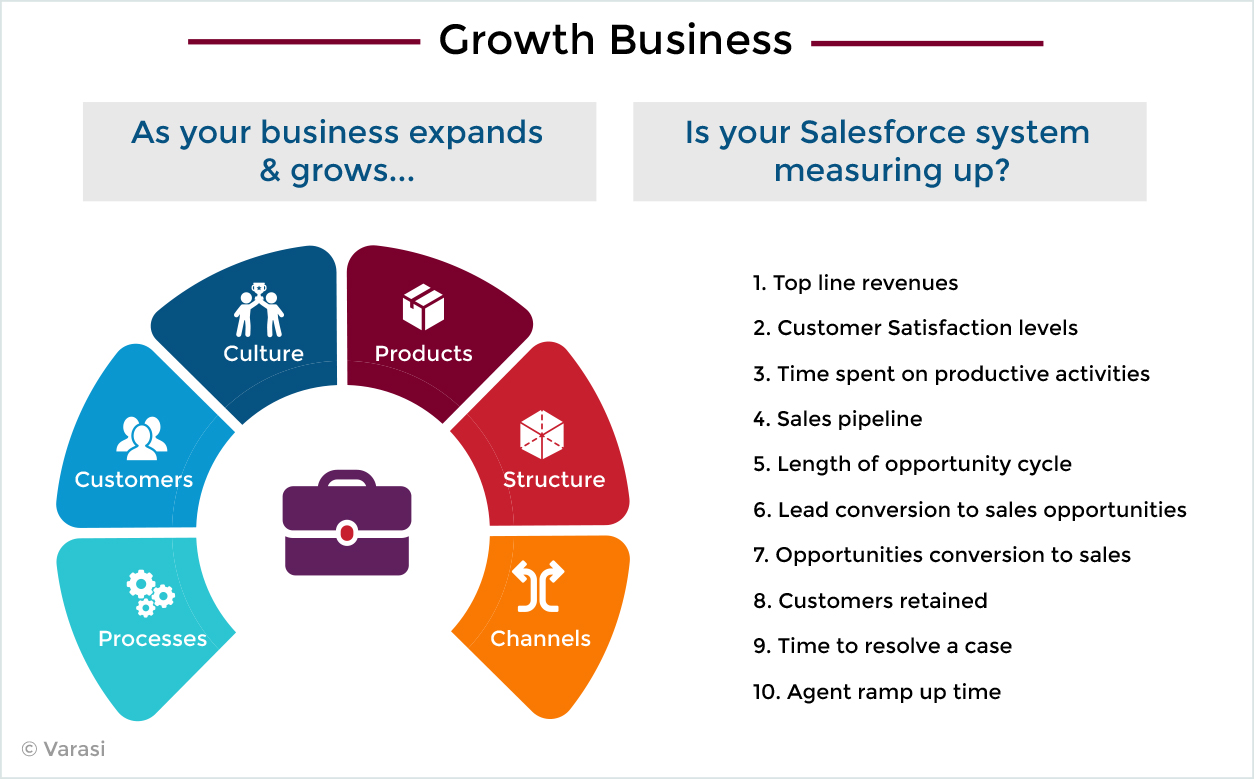 Our client projects may span one or more of the following products from Salesforce:
Sales Cloud
Service Cloud
Communities
Einstein Analytics
Projects may include one or more of the following scenarios:
Sales organizations that are enabling their activities including segmenting & targeting customers, inside, field and online sales, generating pipeline, managing deals through to closure, analytics for management insights through Salesforce Sales Cloud
Provide a tailored, branded experience, access to portions of your CRM data to your partners, customers, employees through Salesforce Communities.
Leverage Pardot's automation tools integrated with Sales Cloud for lead generation and nurturing, product marketing
Design and enable through Marketing Cloud your customers' journeys with your brand through the awareness,
Evaluate impact, migrate classic implementations to Salesforce Lightning Experience including UI, customizations and training of users
Manage customer service and support processes including in bound calls for orders, distribution & shipping, technical and warranty support, returns, help desk utilizing Salesforce Service Cloud
Design and implement metrics appropriate for your sales, service & support, marketing implementations of Salesforce
Improved campaign design and management, processes for qualifying and managing leads
Improved accuracy of forecasts, capacity planning and prioritization
Improved coordination and communication with partners, integration of processes across partner networks
Improved utilization of service staff, improved routing of service requests, use of lower cost service and information channels
Improved performance management and data driven decisions across sales, service, marketing
Solution Design workshop
System and Application setup
Developed and tested system
Integrations and migration of data from relevant systems
Training sessions with role-based curriculum, targeted for users and admins