Here is a grid we suggest you utilize on your CRM projects to manage stakeholder communication: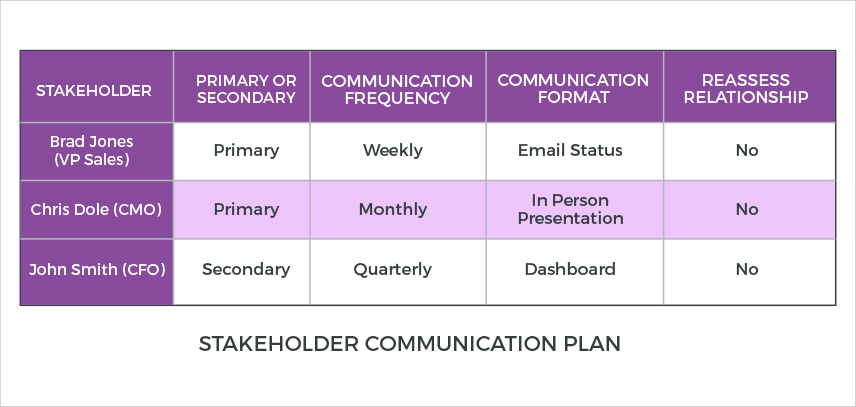 The intent is to be mindful of the influential stakeholders and keep activity levels high with them. As the number of stakeholders grow and their influence levels on the project change, it's harder to manage without such a document.
The stakeholders are a mix of internal and external ones. An example coming from a recent client engagement – for a Partner Community system for a high tech firm, the Service & Repair, IT and Channel Management were the internal stakeholders, whereas the distributor & reseller partners and customers were the external stakeholders.
It is a good idea to point out to significant stakeholders at the outset of the project, what commitment you need from each of them during the execution of the project. For external stakeholders for instance, it is a good idea to ask for involvement at critical junctures as beta users or as advisory team members. It is a best practice to create an advisory of customers, suppliers, and internal pilot users depending on the type of system we are building.
The presentation formats to use for reporting on project progress and deliverables from key milestones, vary based on the stakeholder audience; ranging from few slides to newsletters to video clips demoing the system features.
Evaluate on an ongoing basis if the relationship and interest levels or the influence level of the stakeholder is dropping. That would be a reason for reevaluation and you want to capture that in your plan.
For any reasonably large implementation, consider setting up a steering committee consisting of business and IT sponsors along with your implementation team leaders. Weekly status meetings or calls, a monthly change control board meeting and a quarterly steering committee meeting is the default suggestion we make to our clients.
See related post on our site on Identifying Stakeholders for your CRM Initiative